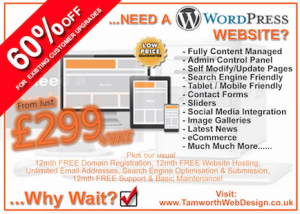 We have spent the last few months simplifying and redesigning our business model and have invested heavily in the latest tools capable of delivering websites which are modern, clean, dynamic, fully content managed (client updatable), fully responsive (mobile & tablet friendly), and most importantly search engine friendly.
Having now completed this process we are able to offer all new & existing clients fully tailored, fully content managed, dynamic & fully responsive websites which are optimised for all device types, and all search engines.
At Tamworth Web Design, we provide web site & web design solutions to clients not just in Tamworth, Lichfield, Nuneaton, or Sutton Coldfield, but nationwide. We specialise in affordable (buy not cheap) local & professional fully responsive small business web design / websites. We cater for static, ecommerce or custom mobile websites / web page design services especially for small businesses or often mobile businesses, in and around Tamworth,  Lichfield,  Nuneaton,  Birmingham, Sutton Coldfield, or indeed ANYWHERE!

All of our Professional, Affordable & Mobile Friendly (Responsive) Custom Web Design Packages start from just £299+VAT for a Static Website, or from Just £399+VAT for an Ecommerce (Online Store) Website. Both packages include all the amazing benefits & features below: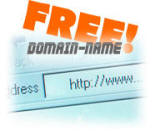 If you are looking for affordable (but not cheap) local small business web design in Tamworth, Lichfield, Nuneaton, Birmingham or Sutton Coldfield, from a local web design agency, regardless of where you are based (i.e. you don't have to be based on Tamworth, Lichfield, Sutton Coldfield, or Nuneaton!) – Then
Get-In-Touch
, or alternatively if you know what it is your after – simply complete our online
Web Design Questionnaire
.
All of our website packages include a basic level of Search Engine Optimisation for FREE, however if you would like to upgrade the level of SEO to enhance the visibility of your website in Google, Bing, and Yahoo then please see our Search Engine Optimisation services

Tamworth Web Design Professional Affordable Local Small Business Responsive (Mobile) Custom Web Design Services for Tamworth, Lichfield, Nuneaton & Sutton Coldfield